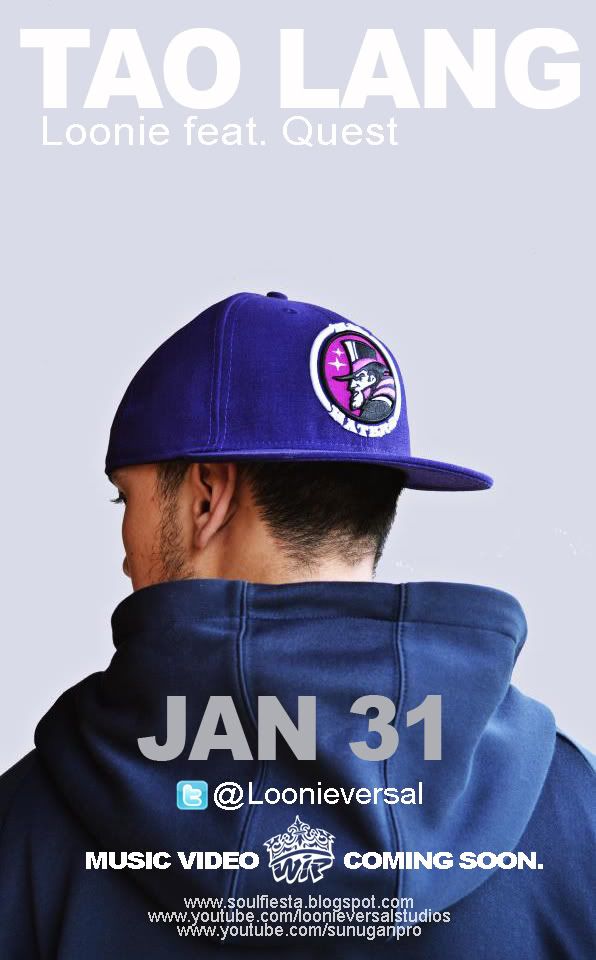 Thank you for waiting, now I give you - Tao Lang by Loonie featuring Quest.
I remember hearing this song for the first time last year at Loonie's spot. He sang me the hook, and it was his exact sentiments at that time. People were grilling him about not participating in Fliptop friends and fans alike.
He just had a change of lifestyle the past few years - from being relatively known, to be being crowned underground king to being harassed and put in a pedestal by fans. From making new friends, losing close ones - and seeing people burn out before him
, it really took a toll on him. He played it for me, and while I thought you can already sum up things using the hook - he managed to squeezed in a couple of quotables.
Tao Lang is produced by Klumcee, one of the most slept on producers of our time. Was recorded at the FlipMusic Studio and was mixed and mastered by non other than Bojam himself.
I will also rightfully divulge to my readers now that S
ony Music Philippines is closing business this month.
Loonie's recording contract is being debated on and being negotiated. Releasing this song is to showcase our confidence in our products and to save the fans the hassle of waiting, as negotiations occur.
Get the rest of the lyrics via the YouTube video description.
Natutukso, nakukonsensya, nauubusan din ng pasensya
Nasasaktan, nagmumura pero nagmamahal pa rin kahit natuto na
DOWNLOAD TAO LANG VIA MEDIAFIRE
HERE.
DOWNLOAD TAO LANG VIA DIVSHARE
HERE.